Happy Easter everyone!
Tomorrow I'm making Easter dinner, so today is prep day. Well, all week has been prep time actually! Purchases have been made, Easter flowers have been tended to, and candy has successfully made it through without being eaten. Tomorrow way more pictures will be taken, but for today I'll just give you a little peek at what's been going on over here. And by peek there is (as usual) a ton of pictures in this post :)
I was over the moon when I went in to ExtraFoods last week, because they had gorgeous hydrangeas and Easter lilies going on up in there. Our old place in Van had pretty much zero natural light, so everything died within a couple days of me bringing it home. Now that I live in a super bright apartment, it's flower time!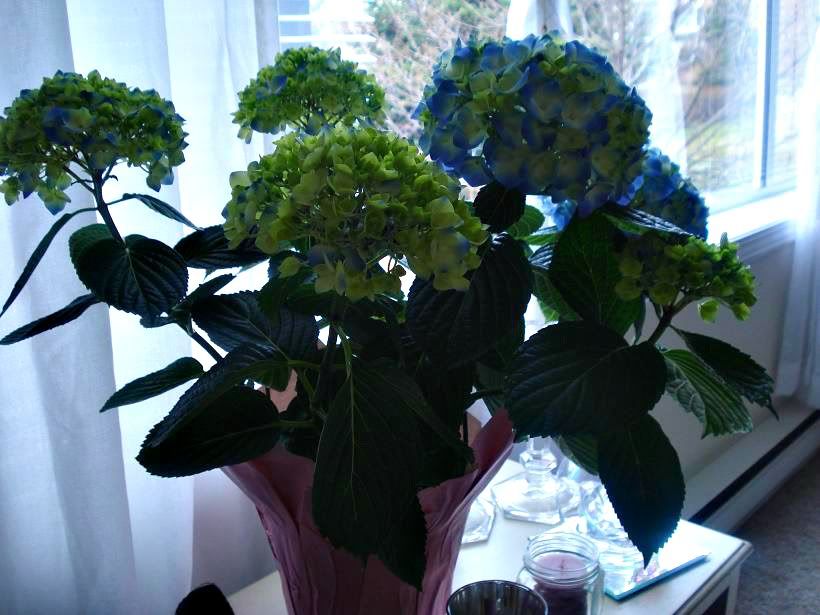 Foil was removed right after photo was taken!
I ended up going back for another hydrangea, after I kept the first one alive so well. I love that to first one is turning light blue. Light blue hydrangeas are rare to find in Kelowna, and they're my absolute favorite. Jamie's gardening tip #1: always, ALWAYS remove that foil wrapper they come in. It might be prettier but you will drown your plant. Hydrangeas need a lot of water so they are particularly vulnerable to overwatering if they can't drain!
Now, as for this one .. I've kept it so healthy for over a week now, and all the flowers are blooming. But, as it turns out, I apparently don't like the smell of Easter Lilies. They make me extremely nauseas actually. Into Tristan's bathroom they have gone.
I feel kind of like a bad girlfriend, but he didn't notice the smell at all and I was suffocating from it, and I didn't have the heart to put the thing out in the cold to die (like he suggested).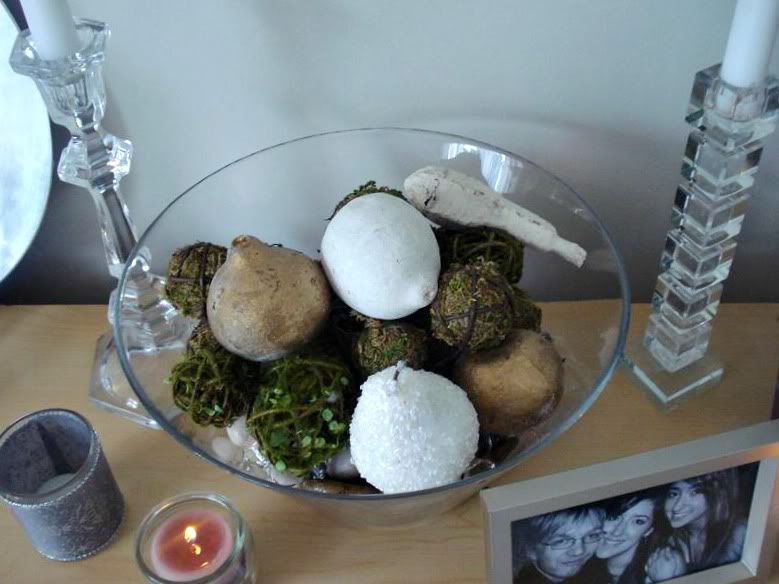 As usual, the bowl of 'random stuff' has gotten a spring facelift, with moss balls.
I bought a couple little boxes of them at Walmart for super cheap, like $4 each?
And keeping in tune with the blue and green theme going on here, new candlesticks! Loooove this color so much.
Since I rehauled the kitchen, I am now obsessed with it. One thing that had been on my mind for awhile was new plates. Last year we bought 2 boxes of plain black plates for every day use. They're a bit scratched up now and that's fine, they were $12 for a box of 4 plates and 4 bowls (you keep rocking, Superstore). As great as they are (Tristan especially likes that they're not girly at all), now that it's spring, (and Easter!), I thought it was the perfect occasion to buy some new, lighter looking dinnerware. Tada:
However, I'm not gonna lie, they were expensive. $6 per large plate. I never would have bought them, deal seeker that I am, but I had a discount of 25% so it wasn't so bad for me (I bought them at the store where I work, and no, unfortunately I won't be disclosing where I work). I love how simple they are, yet square plates always look so fancy.
Also purchased where I work:
Some new bakeware! I'm going to love using these tomorrow.
I'll be sure to take a ton of pictures so you can see my Easter table decor :) I hope everyone has a wonderful Easter!
Love, Jamie