My birthday was on Friday, and it was a
fabulous
birthday! I had a wonderful birthday suprise - Danica rented a car and drove here for one night, just to be here for me! Now that's an
amazing
friend.
This was an extra special birthday, as Sue and I share the same day, and this was the first time in years we were able to celebrate together (living in Vancouver and all). We had a huge group of friends and family for dinner at Kelly O'Bryan's (free birthday dinner after all!). It was great, but as usual I wished I'd ordered what Sue did. That's what always happens when I go to restaurants with her! And this year I even tried to avoid that by ordering what she did the last time we had a birthday dinner there! Next time, I am definitely ordering the Celtic Chicken.
Unfortunately I forgot to take my camera out with me but Danica will be sending me the photos she took. So actual photos of my birthday will be here in the future! In the meantime, I thought I would share some photos of the aftermath around my place (if you're expecting empties and mess, you're out of luck - I'm a neat freak, those were cleaned up by 3am):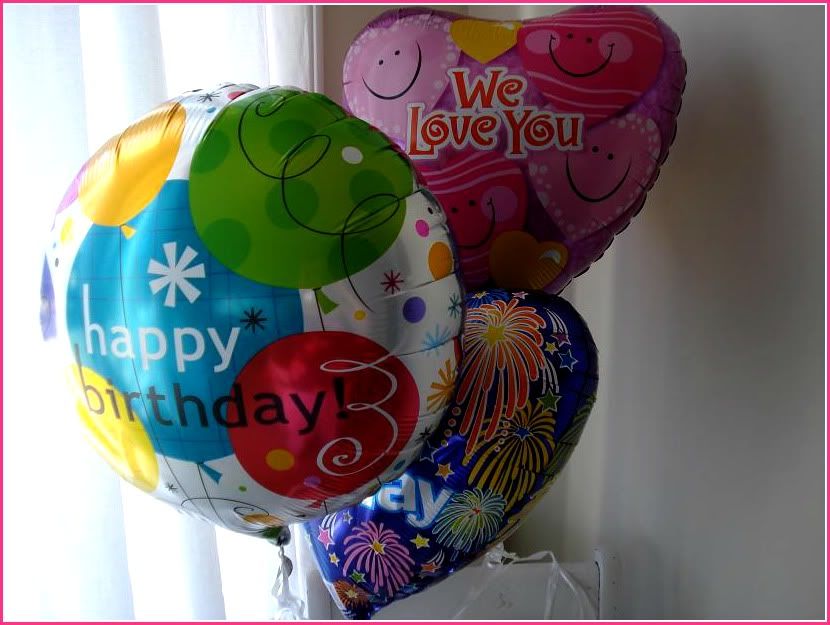 The lovely Danielle came over Thursday night to set up and brought me a balloon bouquet! Three mylar balloons (how loved am I?) and three white balloons (they are sadly deflated). She's classy. She also brought a pack of regular balloons: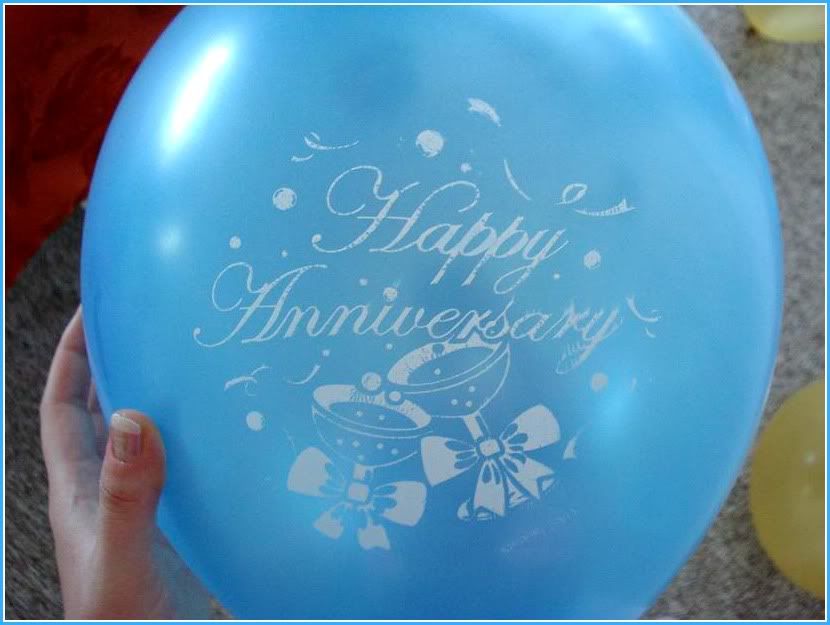 And because she is hilarious she accidentally grabbed anniversary balloons instead of birthday balloons. She loved the colors so much she didn't notice the words! To be honest I loved the colors too and probably would have done the exact same thing.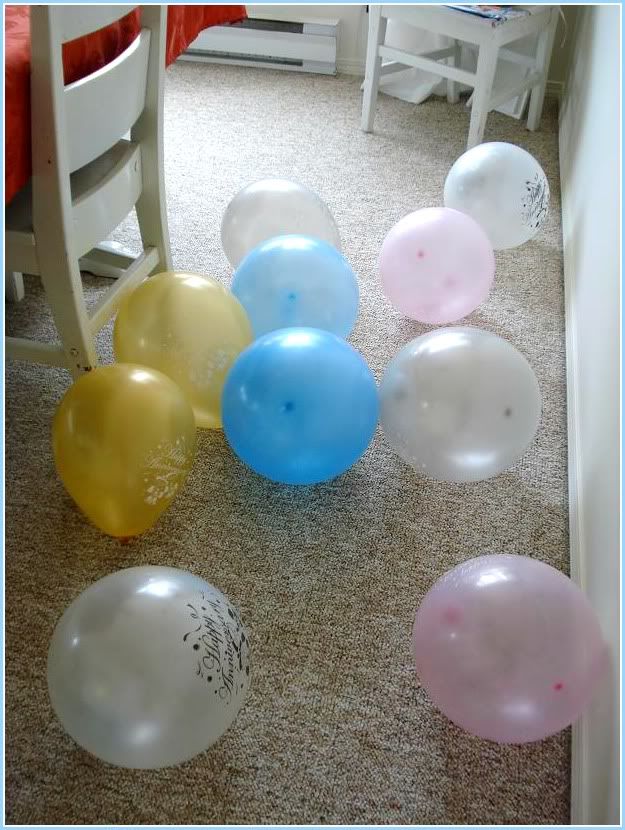 Blue, pink, white, silver, and a lovely orange-gold. Girl knows me too well.
We also started stringing up crepe paper, but after just doing this one window:

We quit and decided to watch movies instead. Atleast this single window looked good!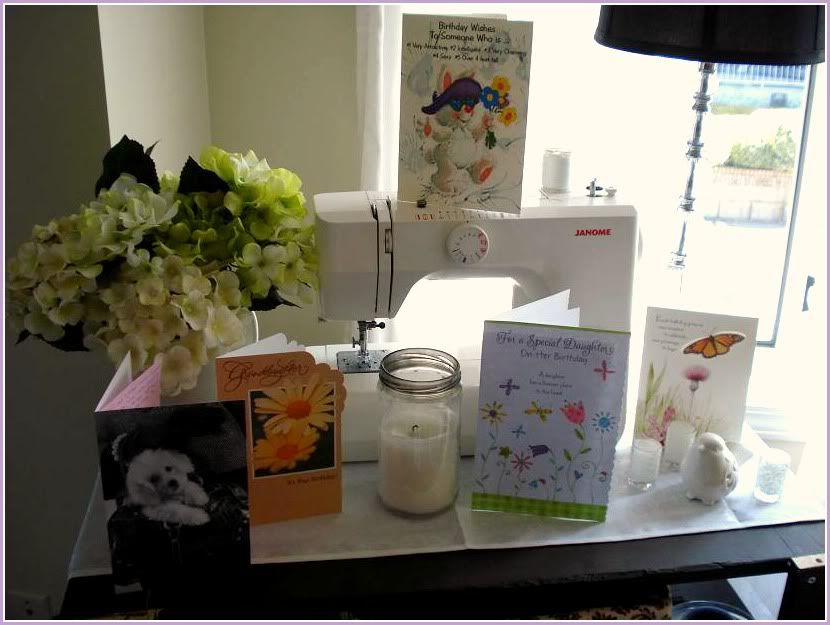 Birthday cards from my lovely friends and family - this isn't all of them, I left half of them at the restaurant by mistake! Luckily Sue grabbed them for me so I'll get them when she gets back from her birthday vacation. She's gone to Mexico with some girlfriends by the way, lucky lady!
Before we went out for dinner, Danielle's friend Britt came over to get ready with us, and she thoughtfully brought me these: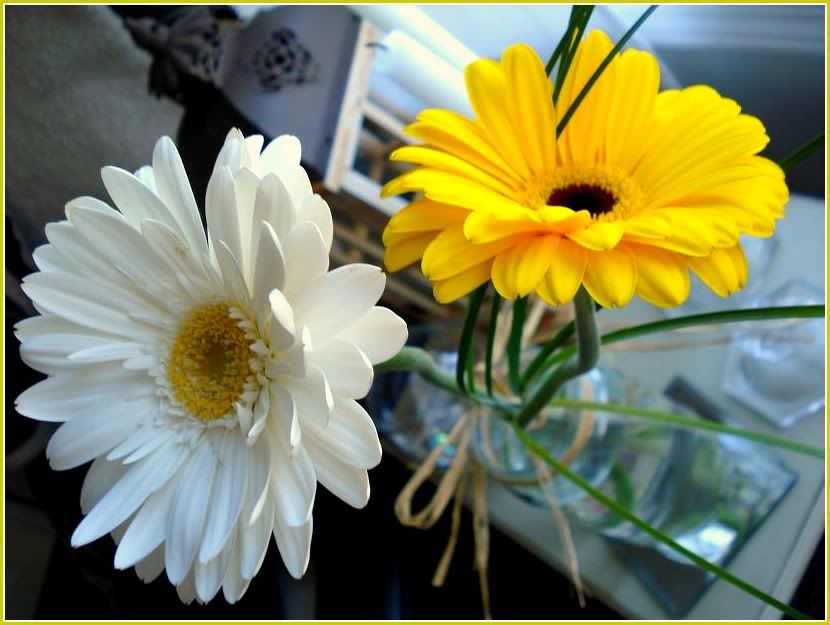 So sweet of her, I love them.
Hopefully in the next few posts I'll be able to supply some actual party pictures! We had a pre-party complete with N64 at my house, then we went clubbing where Danielle works (she even had the DJ wish me a happy birthday!). Of course the night ended with pizza at DunnEnzies, where Danielle was really feeling the effects of her drinks and HIGHLY entertained us (as well as the rest of the crowded pizza shop). Well, the night also ended with me discovering the mardi gras necklace Danielle bought for all of us to wear had stained my neck, chest and shirt bright pink! Rather than just go to bed I of course showered and got out the spray 'n wash. Missed some though, and now my expensive white quilted pillowcase is taking a spray 'n wash bath. Still worth it!
It was an amazing birthday, and I want to thank everyone who made my day/night so awesome!
Love, Jamie