Yesterday my dad dropped off two pieces of very old furniture at my house. He and his girlfriend were cleaning out their guest room and offered them to me, and seeing that I now have a huge apartment to fill, I was in no position to pass them up. However, although the years have clearly been good to them (hardly any scratches), they are in some need of updating. I'm not a fan of bedroom sets (I don't like matchy-matchy), so I figured a little paint and new hardware could instantly bring them to this decade. I believe they are from the 50's or 60's (the TV set legs tell the story).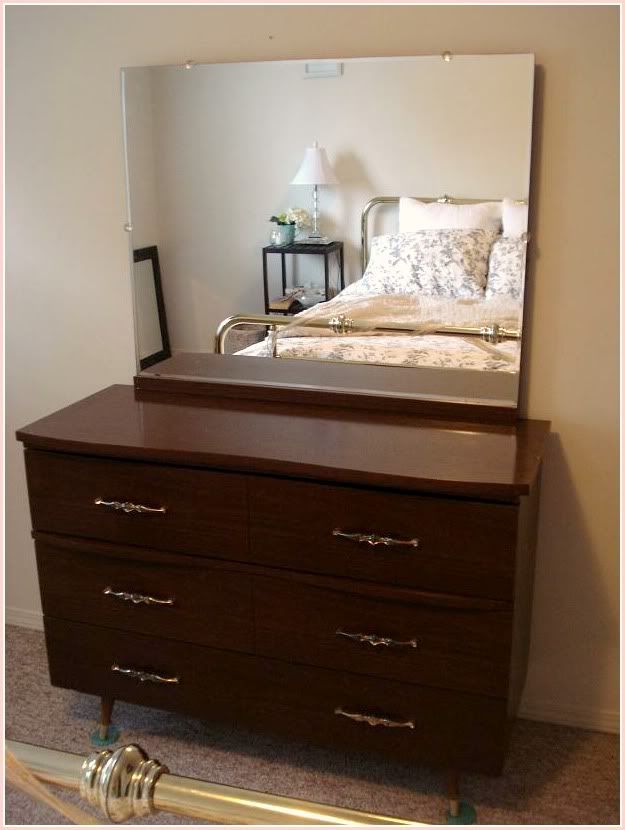 Yes, I'm aware I would be 'ruining' history, but I've got my dad's blessing to go to town on them. In his words, "I know they're not the greatest looking, but they're still good furniture." They are are real wood underneath, so I might pull that plastic 'fake wood' stuff off and see what's going on under there before I paint them. I don't have any problems painting over the fake stuff, but I can't ever bring myself to paint real wood, especially on antique furniture (like in this post:
Hallway Decorating
).
I'm thinking maybe ivory with glass knobs, or paint the pulls already on them black? And maybe paint a pattern overlay on the drawers only? And of course remove the legs. As you can see in the mirror of the first picture, I gravitate towards light colors in the bedroom. These pieces are just too dark and bulky in this room; they really close it in.
So readers, any color schemes or ideas for me?
Love, Jamie