To me, one of the most exciting things about having my own home is grocery shopping. When I first moved out of the nest, I was buying the exact same things my family bought, but after awhile you discover your own 'staple' foods. One of mine is the ingredients for bruschetta. Awhile ago my aunt and cousin came to Vancouver for a girls getaway weekend, and to thank us for letting them stay here, they cooked us a
fabulous
dinner with ingredients they bought on Granville Island. Bruschetta was on the menu, and ever since it's been a favorite of mine. It's really easy to make, and this is how I make it:
(You'll find that I don't like using measurements. I only measure things when baking. I prefer to trust my instincts when cooking)
You will need:
2 tomatoes
(I use plum)
1 baguette
(multigrain)
grated cheese
(I use asiago or romano)
fresh basil
(I use atleast 4-5 large leaves)
garlic
(fresh or the kind minced in a jar)
oil
Preheat the oven to 350
°. Slice the bread
however thick or thin as you like, on an angle. Arrange on ungreased baking sheet. Sprinkle with cheese. Bake for a few minutes, until cheese is melted. Don't bake too long or the bread will get too crispy (the tomatoes will go everywhere when you try to eat it!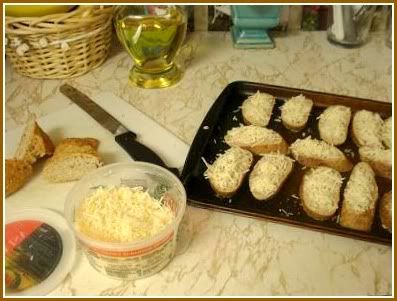 While the oven is heating/bread is toasting, slice the tomatoes lengthwise and remove the seeds. I like to rinse them to get any residue off. Dice the tomatoes and chop the basil, mixing together in a small bowl. Add your chopped/minced garlic (however much you want, I like using
alot
of garlic!), and slowly drizzle the mixture with oil, stirring until evenly coated.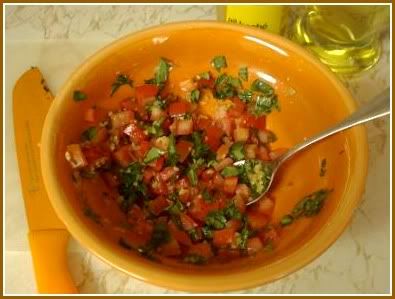 (bowl made for my 20th birthday by Sue <3)
Once the bread is done, I either arrange it on a plate and add the tomatoes myself, or I serve them like so: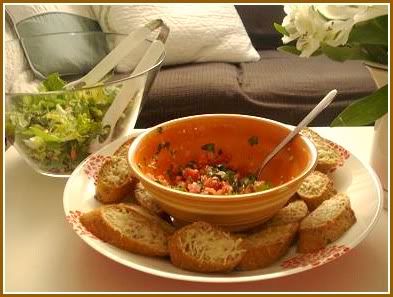 (serving plate, $2, salad bowl, $3.99, both Ikea)
I find bruschetta to be really filling on its own (probably the bread!), but I like to serve it with a salad sometimes. Put out small plates so people can take a few at a time as well as the salad. Enjoy!
Love, Jamie