Yaaay! Polished and boyfriend got a new apartment! We're moving up in the world! We're relocating from Vancouver to Kelowna, where my family lives and where we used to live (well, Winfield but close enough!). Been planning this for so long, but I wasn't expecting us to find such a great place! 2 bedrooms, and, get this - 2 bathrooms! MY
OWN
BATHROOM! From someone who grew up in a trailer park, this is a dream come true! Pictures will definitely be coming in October, of our old apartment and our new one, so you can see the transition we're making!! But for now, here's a little tip: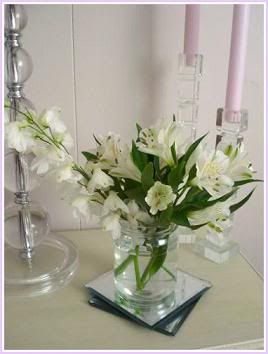 I like keeping glass items together for more impact.
So lovely on the coffee table!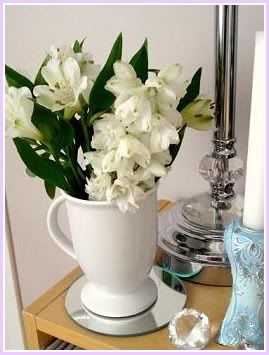 White on white is a favorite of mine.
I bought all of these flowers for about 17 dollars at Safeway. They lasted a little over a week. To add a little more interest when you buy flowers, instead of sticking them all in one vase or jug on your coffee table, take a few and fill a couple of smaller vases or (like I did), mugs and jars, and spread them out around the room. I also like to choose bouquets made of one type of flower, or, if you choose different kinds, keep them all one hue. It's much more 'everyday' than formal. I think you'll like the effect! As much as I like silk/artificial flowers, I
love
fresh flowers. They change the entire feeling of a room, and you enjoy them much more because their time is limited! Treat yourself next time you head to the grocery store!
Love, Jamie