I haven't written in about a week, and here's why: as it turns out, 3 years in the life of an aspiring home decorator = a
LOT
of stuff! I have been packing every day. My boyfriend keeps insisting it will all fit in a 14ft. u-haul, but I'm not so sure. What I am sure about, is everything will be ready to go the morning of moving day. Side story: a couple of years ago, a couple of friends of mine, rented a couple of apartments*. Moving day arrived and we came over to help, and they had packed nothing! Kayla, if you're reading this, the state of your house still has me traumatized! The new renters (and their families of about 6 apiece) were actually waiting in the yard for hours, staring at us as we haphazardly threw things into the u-haul!
*In the case of the 'couple of apartments', they ended up having to move again a few weeks later, as their new place was infested with roaches and bedbugs. Kayla had major nightmares about those bedbugs. Luckily they are very laid-back, go with the flow type people. I know I wouldn't have handled it as well as my friend! They did take us for a lovely (expensive) meal at Joey's, to thank us for helping them move twice.
Moral of the story - be ready for moving day, make sure you ask about bug situations, and your friends won't complain about a free meal!
Since I have nothing pretty to blog about, I'm going to instead show you what I'm living in.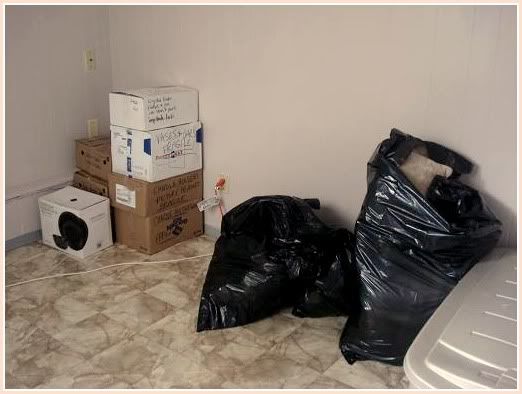 Not much to say for the floor..
The top of the island is the packing headquarters; tape, newspaper, cleaning supplies..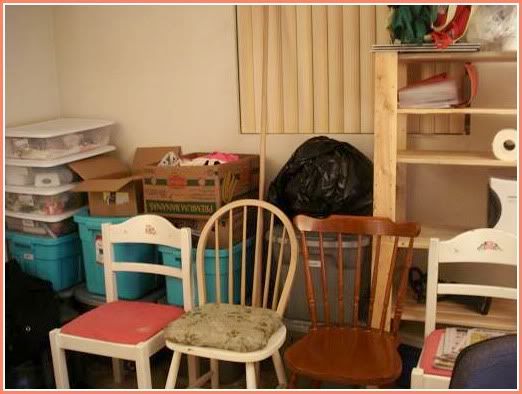 That window? There's a shed built up against it. No fresh air in here.. but there is a story. When we first moved in, we didn't have access to this room. It was locked and full of the landlord's old stuff. Our bedroom is on the other side of the wall, and when we lay in bed talking, I would try to freak Tristan out with stories of how the landlord secretly uses it as a torture chamber, and that there were probably freezers full of body parts lining the walls. Gross? Yes. Creeped him out? Nope. We would laugh, Tristan would fall asleep, and I would lay awake. Eyes widening in terror at every creak. My imagination would run wild, picturing a sledgehammer wielding maniac about to burst through the wall. Oh memories. I will miss some things about this place. Tristan keeps saying if I cry on moving day, he will have no sympathy. 'I'm just going to remind you of the million times you said you hated this place!' Well, in my defense, it couldn't have been more than 3000 times.
One fun thing I have to show you: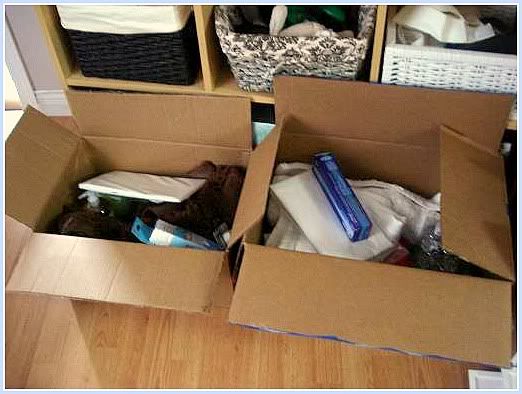 As there will be two bathrooms, these are the TWO boxes of decor!! I am beyond thrilled to decorate my own bathroom. Here are a few treats I bought last week: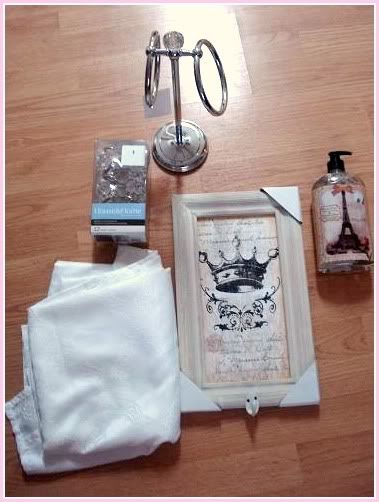 Washcloth stand; 14.99, Shower curtain hooks; 9.99, Orange Blossom 'Dream of Paris' soap; 5.99, Crown picture; 12.99, all Homesense. The real deal of the day was the fabric shower curtain (damask print that you can't see in this photo). From Home Outfitters, originally 29.99, marked down to 19.99, then an extra 20% off as it was the floor model. 14.99? I say YES.
Moving day is about 2 1/2 weeks away. I will be ready for it.
Love, Jamie